UC Davis World Food Center to present Ag Innovation Showcase in Davis (Sacramento Business Journal)
---
From Lab to Launch (Comstock's Magazine)
UC Davis (including the World Food Center) churns out startups by giving its researchers a chance to mix with — and think like — entrepreneurs.
---
Agribusiness Innovation: A Q&A with Boston Consulting Group on Surprising Survey (Forbes)
A World Food Center event is highlighted in association with this prestigious consulting firm's new agtech investment report.
---
Event spotlights agtech startups (Sacramento Business Journal)
The two UC Davis agtech startups, working closely with the World Food Center, have also been highlighted by TechWire, AgFunder News and other publications recently. 
---
Teams Develop Apps For Ag Hackathon (CapRadio)
Lesley McClurg at Capital Public Radio interviewed hackers in the Apps for Ag and World Food Center competition. 
---
Interim director named for Innovation Institute for Food and Health
The institute serves as the World Food Center's innovation arm, engendering collaborations across the UC system and beyond to advance new discoveries and stimulate innovation.
---
Ag-tech startup helps farmers analyze water use (Phys.Org)
Water usage may be California's No. 1 topic in 2015—and last year and the one before that. As the state enters its fourth year of drought, everyone is seeking new options for monitoring and usage of this precious resource.
---
---
BranBYTES wins World Food Center Big Bang Innovation Award

The World Food Center's Josette Lewis hosted the Big Bang! awards ceremony, which included a $3,000 award from the center in the (growing) category of Food and Agriculture. 
---
UC Davis, China team up to improve food safety (Sacramento Bee)
The story on the new World Food Center - China and the food safety agreements tied to it was also highlighted in the Sacramento Business Journal, Food Safety News and Food Quality News. 
---
An in-depth look at the lifetime economic costs of obesity (Brookings Institution)
Chancellor Katehi, President Napolitano on the World Food Center and the Cost of Obesity at the Brookings Institution. 
---
World Food Center partnering with AGree on Food & Nutrition (AGree)
AGree is partnering with UC Davis' World Food Center to develop a collaborative demonstration project to identify scalable approaches for improving health through food and nutrition in California agricultural communities.
---
---
California, Netherlands sign agreement to support UC Davis in Climate Smart Agriculture
The WFC and UC Davis are teaming up with California climate and ag agencies, the UC Global Food Initiative and Wageningen UR—the #2 ag university in the world—to adapt food systems to a changing planet.
---
The U.N. celebrates 70 years with new, ambitious goals
"As the world is changing in terms of rising income and population," says Josette Lewis in this Davis Enterprise profile, "the role of agriculture is changing."
---
Climate Change Through the Lens of Food Security
LIsten to the World Affairs podcast with the WFC's Josette Lewis.
---
Davis think-tank event invites solutions to world hunger (Sacramento Bee)
"Net Impact chose to launch the sustainable food think tank at UC Davis because of its rich agricultural history and its investment in global hunger solutions."
---
---
University-business collaborations key to global food security (Diplomatic Courier)
WFC Director Roger Beachy explains in this op-ed the importance of reaching across academic disciplines and bridging the divide from university and industry partners. 
---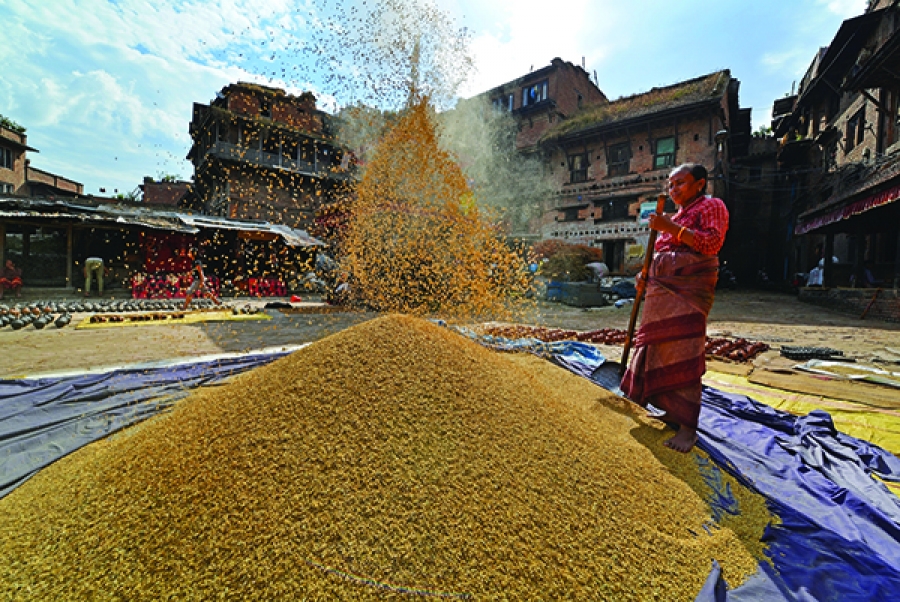 ---
Top photo: Roger Beachy, Josephy Glauber (IFPRI) and Christine Stewart (UC Davis) speak at The World Food Prize. 
"Food is the new social activism," Josette Lewis says in this UC news story on food innovation. 
---
Four UC Davis students or alumni were recognized this week as pioneers and innovators for extraordinary contributions in food.
---
The World Food Center supported UC Davis nutrition professors at the 2016 Consortium of Universities for Global Health in a discussion on stunting, wasting and obesity in children among other global health targets.
---
Jan W. Hopmans will serve as interim director of the World Food Center effective May 1, on a partial appointment. 
---
The collaboration has led to a much-needed tool for measuring dietary diversity, a key factor in diet quality. 
---
The World Food Center is launching the Global Food Professionals program to equip the next generation of public- and private-sector leaders with the education, skills and experience to tackle 21st Century challenges in the planet's food system.
---
The Emerging Leaders in Policy and Public Service Fellows will work in summer public policy positions in state agencies and the legislature, nonprofits and UC Davis policy centers. The World Food Center will sponsor a position at the CDFA for an ELIPPS fellow. 
The WFC will also sponsor a summer fellowship position in the World Bank's Climate Change division for UC Davis graduate students. Application process to be announced Apr. 4. 
---
Two of the world's top-ranking agricultural universities are teaming up with California and international policymakers to tackle one of the greatest challenges to food systems across the planet.
---
The World Food Center hosted the CDFA, the ARB and the Department of Conservation in a forum on California's climate plan.
---
Water security, hackathons, China food safety and many more activities lifted the World Food Center and UC Davis to global platform in 2015. 
---
World Food Center Associate Director Josette Lewis represented the U.S. as co-author on this report on the findings from a conference hosted by Nestle. 
---
The challenge of feeding a growing and changing planet begins with water and follows a roadmap of international partnerships that lead to global investments.
---
Hackers competed for the best food apps, precision ag leaders paved a roadmap with the World Food Center, agtech startups pitched ideas and investors shared advice on successful agtech models.
---
UC Davis and the World Food Center are launching the Consortium to Advance Next Generation Precision Irrigation and Fertilizer Management Systems. With partners in agtech innovation, the consortium will advance the commercial development and adoption of integrated irrigation and fertilizer management solutions.
---
Known as the Nobel of food and agriculture, the World Food Prize for the first time ever featured a UC Davis-led panel discussion on stage this week.
---
Scientific American recently named the 100 most influential people in biotechnology, two of which are affiliated with the World Food Center: Roger Beachy, the founding director, and Pamela Ronald, a faculty director for the Insitute for Food and Agricultural Literacy, initiated by the World Food Center.
---
The first annual symposium by the Institute for Food and Agricultural Literacy convened journalists, scientists and foodies to discuss the controversies surrounding genetic engineering technologies. 
---
A UC Davis student and his team, with help from a World Food Center advisor, have developed an award-winning idea for a software application helping consumers choose foods that meet their medication needs.
---
The University of California, Davis, ranks No. 1 in the world for teaching and research in agriculture and forestry as well as veterinary sciences, according to data released today by QS World University Rankings. This is the third consecutive year that UC Davis has been ranked first in agriculture and forestry by QS.